Your Instructor, Lisa Gross
Lisa Gross is an employee at Preston's.  Lisa is also a full-time health educator, with over 20 years of teaching experience.  She is a mindfulness teacher, and a passionate craft and flower enthusiast.  Check out her Instagram page where she often posts about upcoming classes, mindfulness techniques and other crafting ideas.  Also, check out her website with more information on upcoming classes!  Private event classes are offered, call the store for information on how to schedule a private class for your friends, family or coworkers!
Payment for classes is due upon registration.  Payments can be made in store (1640 State Route 104, Ontario, NY 14519) or over the phone (315-524-2200).  Lisa also accepts Venmo.  Please call the store for more information and register quickly as our class sizes are limited!  During the winter months, classes are held inside the store.  In the warmer months, classes are held outdoors in the garden.  Because classes often work with paint, craft & garden supplies, please dress accordingly.  Coffee & tea are provided and you are welcome to bring a beverage of your choice.
Rock Painting Class
You will be selecting 5 rocks and you will be able to follow several different designs that are provided or you can come up with your own.  The designs are simple enough for beginners.  They look super cute tucked in a flower garden, on your picnic table to act as a paper weight or just sitting on a ledge.  Endless uses and so much fun!  This is a kid and/or adult friendly class!
Date:  Wednesday, July 27 at 2:00pm - 3:00pm
Cost:  $10 per person
Kokedama Workshop
What is a Kokedama?  It is a form of Japanese garden art that is centuries old and tried into the practice of bonsai.  It is an accent to that mode of plant display where a moss ball is the focal and supporting point for a sculpted free or plant.  Kokedama, simply translated, means "moss ball", and we'll show you how to bind the roots of a plant in moss in order to create these unique living sculptures.  This way of displaying plants creates a unique focal point and they can be set on trays, placed on strands or hung from the ceiling or branches.  We will go over the ins & outs of Kokedama creation & care, with a detailed, step-by-step demonstration to show you how to create your own.  Be prepared to get your hands dirty!
Date:  Tuesday, August 16th at 6:00pm
Cost:  $30 for one Kokedama (additional can be made for $15)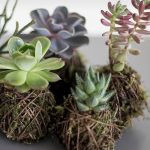 Pumpkin Succulent Centerpiece Planter
Come enjoy the health benefits of gardening and learn about succulents.  Create a beautiful centerpiece for your table to last all through fall.  Learn how to care for succulents and keep your plants alive and thriving as you get your hands dirty and make your very own planter.  When the season is over, you can transplant the succulents into another pot and keep them as a houseplant. Participants will leave the class with their centerpiece & directions for care.
Date:  Tuesday, October 7, 2022 at 6:00pm
Cost:  $38
Included in the price:  succulents, Sedums, a pumpkin, potting materials & instructions.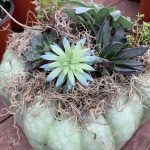 Great customer service amazing how much product they have in stock will definitely do more business with them.
Tom Hemstreet
Very nice selection of flowers, perennials and annuals. Large selection of bushes and trees. Good prices.
Michelle Coon
I really loved this place! There were so many beautiful plants, flowers and shrubs to admire. Very helpful staff.
Sandra Hazen
Very knowledgeable and delivered my stone within hours and by my schedule! We will be back for more!
Lisa Mary Meek