Preston's Home & Garden Center
Preston's Home & Garden Center

, &
Preston's Tree & Landscape Service

,

in Ontario, NY offer professional products, services & more! 

Are you looking for beautiful flowers, trees, mulch, or shrubbery?  Do you want to enhance your curb appeal?  Or to enhance the beauty of your backyard?  Preston's is your "one stop shop" for all your gardening and landscaping needs!

With Preston's Home & Garden Center, we have an amazing variety of items that you're looking for at our store location!  We offer a range of supplies, for your home, garden, work space, or any other project, including edging, landscaping, and much more...

...such as: indoor plants, houseplants, apple trees, perennials, hanging flower baskets, fabric, hoses, tools, decor, gifts & more.  Bulk products include:  decorative stone, mulch, topsoil, compost, construction stone, firewood, rock salt, coal, & more than we can even list here!

With Preston's Tree & Landscape Service, we offer landscape design and installation services.  Our landscapers will listen to your ideas and help find the perfect solution for you.  Our prices are extremely affordable so we will be able to help you plan a project no matter what your budget is.

Contact us when you have any questions!  Together we can help you build the landscape you have always dreamed of!  Visit, or call us: +1 315-524-2200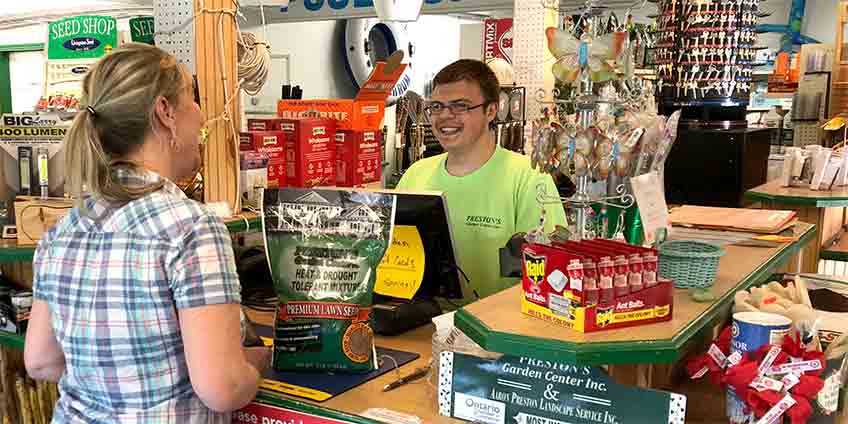 Preston's Leadership Team

Aaron Preston
President/Owner

Renee Preston
Vice President/Owner

Jamie Cayea
Administrative Assistant

Jesse Preston
Store Manager/Owner
We Are Gardners & Landscape Designers!
We strive to maintain the highest standards while exceeding client's expectations.
  Garden Center & Hardware
  Tree & Landscape Services
We not only honor commitments, but are known for meeting tough deadlines while delivering nothing but the best.
Landscaping 
Done Right!
When you're creating a landscape, you hope when it is all finished, you'll be able to enjoy it for years to come. We can help make the process smooth and simple.  Our knowledgeable staff is happy to help every step of the way:  from completing the service to simply lending a helpful hand at the garden center by answering questions and providing suggestions. Let's get it done and done right!
   Our Mission
Our mission is to become a local one stop shop for any homeowner or contractor that needs supplies at an affordable price.  We want to remain a wholesome family owned business that never forgets the importance of customer service.  Preston's Home and Garden Center and Preston's Tree and Landscape Service would love the opportunity to earn your business.
   Our Vision
Whether you are maintaining your space or just adding a few items, we are sure to have what you need.  We can create a design from scratch, or expand on your existing project.  We guarantee that we will meet your expectations, with efficient and quick turn around.  We look forward to helping homeowners and contractors create a design you can be proud of, while supplying products and services at affordable prices.
Ask A Question/ Send Us A Message