Commercial Stump Grinder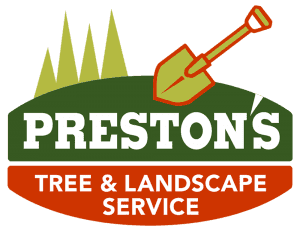 Our Commercial Stump Grinder gives optimal power & precision; the four wheel drive is self-propelled, to help us get into tight spots.
Our stump grinding services will get the job done in a correct and visually pleasing process!
With optimal power and precision our 2550xp bandit grinder gets the job done fast and efficiently!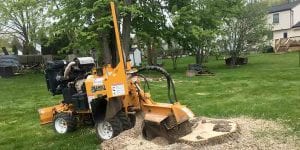 Our grinder has optional four wheel drive and is self propelled to get into tight spot that other grinders will not be able to reach! This minimizes problems and labor which is better for us and the customer. 
If you decide to grind your stump, then it's important to get down under grade as far as possible. Our equipment is built to handle large land clearing jobs, large stumps and of course the average stump on any property.
The more wood material left behind the bigger chance there is for settling to occur which may mean more future work. 
Preston's recognizes the possibility of this take that into consideration when doing the job so it gets done right the first time.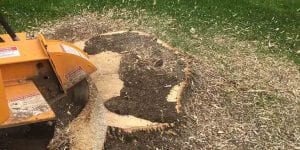 Also if you are planning on doing any planting in that area is important most of the roots and wood material is gone so your plants do not have to compete for space and you don't run into any left over material when digging.
If there was a pine tree there the wood residue from that tree may leave your soil acidic which may not be the right conditions for future plants.
Stump Grinder Benefits
The grinder is a good solution because without it removing a stump would mean excavation or chains and equipment to try and pull the stump from the roots. This process is messy and unreliable. If and once the stump get pulled out lawn repair and fill would be required to fix the area back to its original state. More money and longer time on the job Is not in the customers best interest. We can be in and out with ease and in a timely manner. This is better for all parties.
They have amazing, state-of-art, tree removal equipment. After numerous quotes from climbers and bucket trimmers, Aaron Preston Tree Service took my nasty 100 ft. Cottonwood tree up and over the house avoiding destroying the backyard.
Ron Kindred
I took landscaping service for our home, they did an amazing job. They were very professional and friendly and answered all my queries very calmly. I will definitely recommend Aaron Preston Landscaping Services for all of your landscaping needs.
Ryan Luis
We used Preston's Tree & Landscape Service Inc. for tree removal at our home. The owner of the company came out at a scheduled time and looked at the trees I was concerned with. He explained to me exactly how the trees would be removed, that they wouldn't be on the lawn and didn't even have to disrupt any of the back yard landscaping.
David Walker
I was very pleased with the tree work completed. The timeframe given the weather Nov/Dec and holidays was within reason. Office staff was very polite and Aaron very professional. I had other quotes earlier in the year which were much lower. However, given the location of the limb, Aaron's equipment and expertise was well worth the cost.
G Gray